Towards Capitalism With Purpose
"Our society has done some amazing things, but we also have some huge inequalities and the world is facing some very serious climate challenges," says entrepreneur and activist Luis Javier Castro. "I'm a big critic of the short-term nature of capital and a supporter of those who looking to take a different approach."
Castro is putting his money where his mouth is. Through his private family office, he has set up Alejandría Corp, an investment company he runs with the aim of building an educated, connected, and empowered society, with a particular focus on the problems of Latin America. "Alejandría is an important experiment in how capital should behave", Castro explains.
The venture is the culmination of 25 years of running businesses and investing in growing companies. Castro began his career at the consultant Bain Capital and went on to launch Mesoamérica Investments, a private equity firm that invested in industries ranging from renewable energy to telecommunications.
Alongside that work, he spent many years supporting groups supporting social enterprise and entrepreneurship. Prominent roles have included work with the Young Presidents Organization (YPO), which works with leaders in 125 countries worldwide, and United Way, a network of non-profit groups committed to making an impact in areas such as health and education. He's also worked with AED, which brings together more than 150 companies committed to a more prosperous, inclusive, and respectful environment, and is a fellow of the Aspen Institute.
"In the past, I tended to think of those activities as separate," Castro reflects. "More recently, I've come to see that the business side of my career and my other activities were actually closely linked." Castro spends much of the Covid-19 pandemic mulling over these ideas. "I thought about my next life and what I would do for the next 25 years and I kept coming back to this idea of interdependence; the pandemic has really brought home how interdependent we all are."
Alejandría Corp is the result of that thinking. "This is conscious capital, with purpose at its center," Castro explains. "If we can solve society's problems, we can do a lot of good, but we can also make a lot of profit."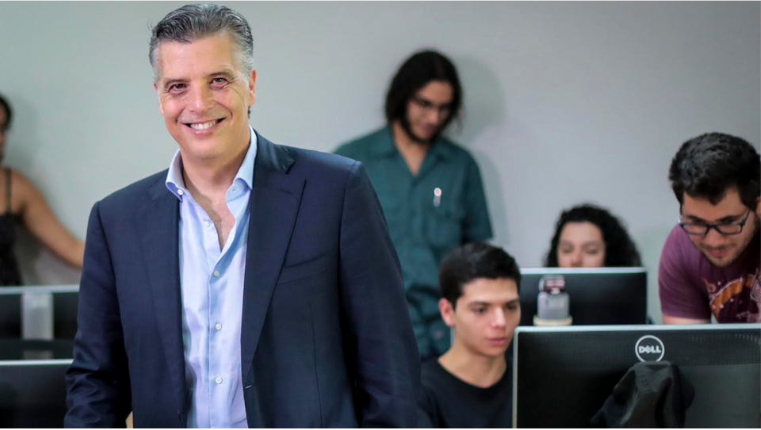 Castro is keen to stress that he is in it for the long term. Importantly, Alejandría is not a fund requiring Castro to manage money with one eye on the priorities of his investors. Rather, with his own funds committed, he is free to focus on supporting the businesses he backs over an extended period.
Still, while Castro is taking a long-term view, he is also keen to get moving. Having launched Alejandría at the beginning of the year, the company has already made nine investments.
The education pillar of the "education, connected and empowered" mandate has been the most active so far. One early investment was in Knowledgehook. The company, featured on Forbes a year ago, is an educational technology business that supports students and teachers around the world; leveraging a combination of data analytics and educational research, it helps educators teach more effectively and monitor the performance of their students in granular detail.
Qamar Qureshi, a chief business officer of Knowledgehook, believes Alejandría is a perfect fit for his business. "We share the same mindset," he says. "We started out by discussing our missions and objectives, and we were aligned at every step of the way."
Alejandría's involvement in Knowledgehook is helping the business to expand into Latin America, starting with Mexico. Improved educational outcomes are crucial to tackling societal problems such as inequality and exclusion, argues Castro, but too many Latin American students are leaving education without the skills to participate in the economy of the future – particularly in areas such as maths and science.
"Right now, education is a differentiator, when it should be an equalizer," argues Qureshi. "The gap between rich and those who are left behind is growing and it got wider during Covid when some children received no education at all; we can help to close that gap."
Castro is interested in how Alejandría's investee companies can work together, collaborating and sharing expertise in order to create something bigger than the sum of their parts. "We aspire to be an ecosystem creator," he says.
Some of the other pieces of the jigsaw are already falling into place. For example, Alejandría has also worked with Singularity University, a Silicon Valley-based education group that wants to create a positive impact by teaching more people skills related to exponential technologies such as artificial intelligence, 3D printing, and robotics. Another portfolio venture has seen the Copenhagen Institute of Interaction Design launch a rolling program of learning in Costa Rica.
Alejandría is also an investor in 4thewords, a small start-up that uses gaming to encourage people to write, Tomi Digital, a digital education specialist, and Aulas Amigas, which is focused on improving the teaching and learning process.
Beyond education, Alejandría has also begun to explore its other areas of focus. In the connection sphere, for example, it has invested in the internet of things specialist WND Group. Under its empowerment label, it has backed Polymath Ventures, which helps small-scale businesses to work together to drive scale and efficiency.
There will be more to come – Castro is just getting started. But it is good progress so far and he is excited to see what can be achieved. "Capital is the initial conversation – what gets us in the door – but it is only the start," he says. "I want to prove that this new type of investment can really change things."